Remote weight tracking app
data collection from measuring devices via Bluetooth or IOT
Mobile project for performance monitoring linked by Bluetooth to measuring instruments such as a scale in order to weigh (in this case a hive) while scanning its barcode identifier and store its weight in the database for traceability and production history of the hive in relation to its queen, its place of harvest, etc…
Mobile app targets :
Enable a farmer (here a beekeeper or for any other workshop by customization) to track his production by weight through remote measurements from the installation of the apiary to extraction;
Application in groups of major functions on a single mobile terminal:
Change of location : Assignment of the identified means of production (here a beehive) to a location, to a change of location, a move such as transhumance, to movements; characteristics of the location by criteria.
Structural modifications: For example, allocation of supers to hives, inventories of hives harvested in an apiary with date and time.
Action: when the hive is weighed remotely, it is scanned, the software immediately retrieves the hive's tare weight from its database and drives the scale's weighing indicator via Bluetooth to display the net or gross weight, depending on the settings. The honey weight is recorded in the database via WiFi or USB.
Solution benefits:
can work with one or more Bluetooth-enabled terminals
benefits from updates and suggestions from other users,
Prerequisites :
Identify the means of production with barcodes (one series on the bodies and another series on the fillers to speed up entry and enable the software to distinguish the items to be weighed: don't hesitate to call us beforehand, we can supply them: (Plastic plates, black barcode marking on clear plates, stainless steel. Marking durability: indelible (never fades). per series of 1000)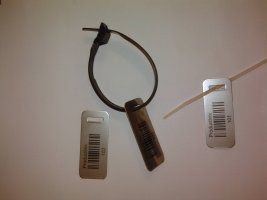 Files / lists of –locations (apiaries) with their characteristics (sunshine) – means to be weighed (e.g. beehives) with their characteristics (type of means )
How it works:
Once the table of hives / apiaries and parameters in Excel or another more professional database on a PC has been filled in with designations, prices and barcodes or item codes, it is loaded into the terminals connected by Wifi / cable. The terminal updates itself with the database every hour.
confidentiality:
Data is transmitted between your terminals and your databases, and is not normally accessible by any other institution: for example, if you decide to indicate the GPS positions of locations, they are not transmitted to anyone else.
Several terminals can synchronize in parallel on the same Excel file (within a few seconds of each other).
Features:
would work on Android terminals or tablets (off-the-shelf)– note that on Android, scanning and resistance to shock and humidity, honey , are more effective on professional and rugged terminals that we resell.
Connection (synchro at startup and every hour, for example) to a SQL database via wifi or 4G,
multi-language: possible
instead of Bluetooth connection, we can redo the study with IOTs (Internet of Things) and a connection to weighing data via networks
Application still in pre-study stage